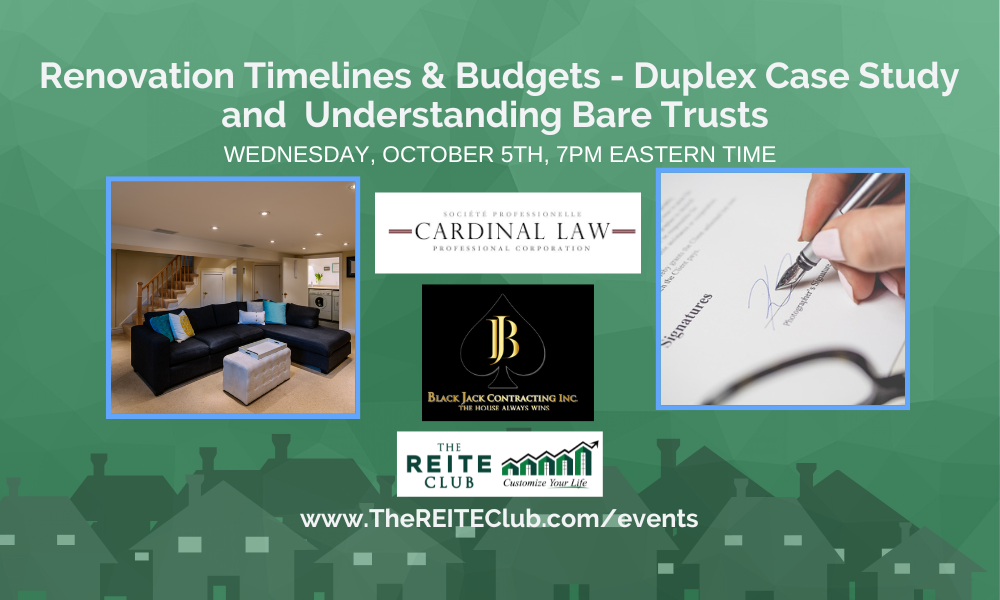 Event Details
REITE Focus Event 
Renovation Timelines & Budgets and Understanding Bare Trusts 
Wednesday, October 5th, 7 pm EST
Renovation Timelines & Budgets - Duplex Case Study
The past two years have seen significant cost increases, price fluctuations and supply chain issues for materials and riding labour costs and scarcity. 
This has made the factoring in of conversions and renovations potential deal makers or breakers. 
Join Jon Tenbrinke of Black Jack Contracting as he shares strategic solutions for budgets and timelines for these types of projects. 
He is also going to be sharing a case study with numbers and examples of a full-scale duplex conversion, with a budget breakdown. 
Understanding Bare Trusts
With the recent surge in real estate prices across the country and real estate investors building sometimes significant portfolios the subject of trusts is one that is coming up more often. 
But what is a Bare Trust, why would it be beneficial to a real estate investor and are there any downsides? 
Join Milena Cardinal of Cardinal Law as she delves into the subject of trusts, why and how to form one, when they make the most sense, and answer your questions.
Guest Presenters
---
Time and Place
The live portion of this event has ended.
Price
Please enjoy this complimentary event replay.