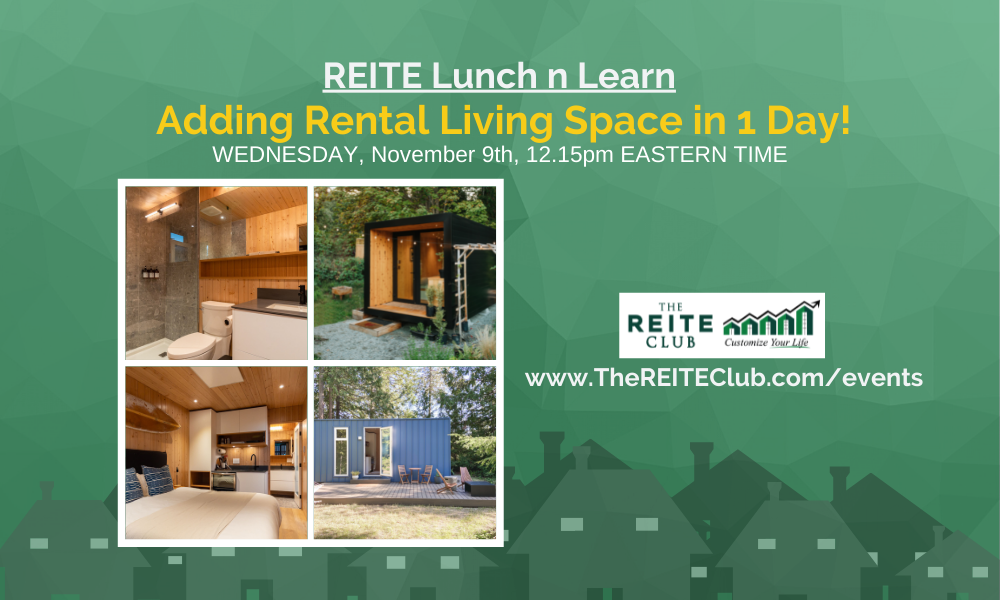 Event Details
Adding Rental Living Space in 1 Day! 
A REITE Club Lunch'n'Learn Event
Imagine going online, configuring a stand-alone living space, getting a permit, waiting around 20 weeks and then being able to add an additional dwelling unit to your property in just one day!
That is what is possible with the Auxbox, a modular system that is simple, functional, and designed for ease. These micro spaces can be workspaces, extra rooms or a full rental unit designed with ease of acquisition, speed of installation, and reliable, long-term performance in mind.
With more and more municipalities allowing intensification these units could be a fast way to have your properties income-producing faster and without all the hassles of having to manage or even find contractors. 
Join developer Drew Toth and REITE co-founder Daniel St Jean as they discuss what this can mean for real estate investors and share the details including impressions from the previous night's walkthroughs at the Reite Club's live event in Oakville where we had an aux box available for viewing in the car park! 
Register now to understand this game changing opportunity 
Guest Presenters
---
Time and Place
The live portion of this event has ended.
Price
Please enjoy this complimentary event replay.