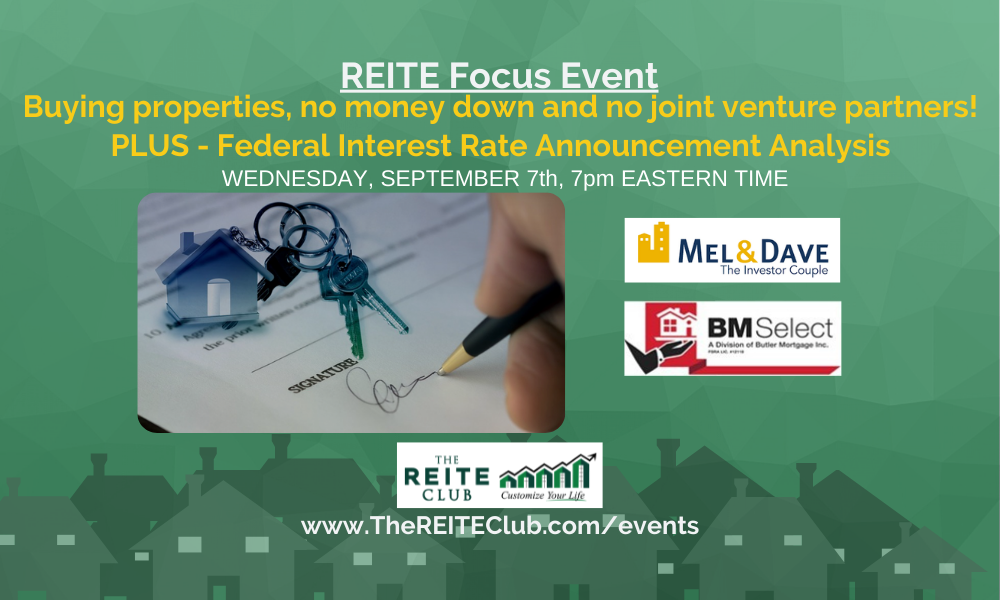 Event Details
Buying properties, no money down and no joint venture partners!
How do I get started with no money down?

What creative financing strategies should I use to keep 100% of the cashflow, appreciation, equity, and decision making?

What's the biggest mistake investors make when using creative financing?
Join Investor Couple Mel and Dave as they share how to buy rental properties using none of your own money and without joint venture partners in Canada, the US and abroad.
Melanie and Dave Dupuis are innovative real estate investors and award-winning mentors who have SOLELY acquired over 240 apartments in just a few  short years. Their strategy gives them the ability to purchase properties… without using any of their own money or relying on joint ventures. This also allows them to own 100% of the property - which means they keep 100% of the equity, cash flow, and appreciation.
Federal Interest Rate Update and Analysis
Hear from Daniel Patton of Butler Mortgage (BM Select) following the most recent Federal Government rate announcement. 
Did the rate increase?
How will this affect real estate investors?
Will rates now stabilize?
Daniel Patton has worked in the mortgage business and helped grow Butler Mortgage into the number 1 brokerage for investors. Daniel and his team have years of experience planning and strategically helping investors from all areas both inside and outside of Ontario.
Daniel was Ranked as the number 14 mortgage broker in Canada in 2019 by CMP Magazine and along with his team of investor-savvy mortgage experts, they look to build on what is already been an amazing journey.
Join us for what promises to be a most informative presentation
 
Presented by
---
Time and Place
The live portion of this event has ended.
Price
Please enjoy this complimentary event replay.