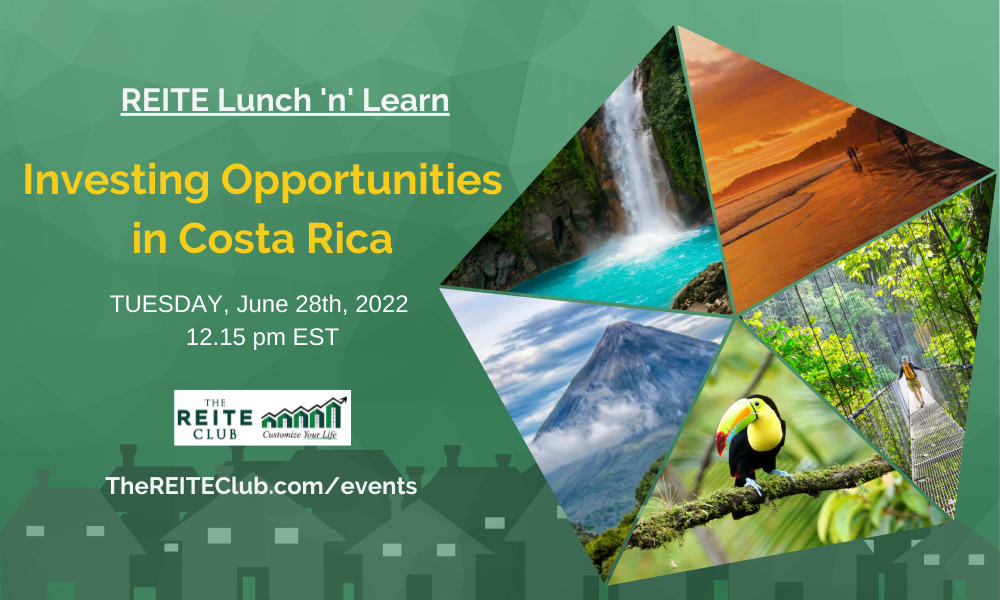 Event Details
EXCLUSIVE - Investing Opportunity in Costa Rica
Very Limited Number of Units Available
Over the last few years, many Canadians and others have discovered the unique beauty that is Costa Rica. This exotic paradise offers it all, sunshine, ocean, turquoise waters, tropical climate, and breathtaking sunsets.
It also offers an amazing real estate investing opportunity with the increased demand for short and longer-term stays, a nomadic working possibility and a country leading the world when it comes to renewable energy.
The sustainability approach is extended to this builder who designs modern custom homes, building in some of the most sought-after areas in the country including this development on the North Pacific Gold Coast area.
All units, which have full title ownership, offer lots of private indoor and outdoor space, a pool with hanging chairs and an outdoor shower. The resort offers a private clubhouse with pool, co-op working space, organic spice garden, yoga and outdoor workout space.
The REITE Club has been given the exclusive opportunity to offer a very limited number of properties that we do not expect to last long.
We have been provided with special prices and bonuses that will only be shared on the LIVE call.
There will be no recording or replay and we are expecting this offer to be acted on very fast so do not miss out.
Do not miss this live presentation to get all the details and be able to act fast.
Register now!
Some special things to note about Costa Rica:
Climate is the same temperature year-round, over 500,000 different wildlife, 25% of the country is conservation land and 5% of the world's biodiversity and generates 99% of its electricity using renewable energy.
Pura vida, means "pure life", a common greeting and a state of mind. from the welcoming Costa Ricans. The new Digital Nomad law will allow anyone wanting to work, and earn a living from abroad, to stay in the country for 1-year, with a possibility of a 6-month extension. - live, work, play here!
Costa Rica is fast becoming THE go-to vacation destination for many Western countries. Not surprising when one part of the country is a Blue Zone - meaning inhabitants often live active lives past 100 years.
One of the best climates in the world for farming. Known for its fruit. Producing organic, non-GMO fruits from the nurturing sun which produces some of the most alkaline fruits.
Presented by
---
Time and Place
Join us June 28, 2022, 12:15 pm – 12:45 pm
(America/Toronto)
via Zoom. (Your Zoom link will be sent to you via Email.)
Price
Register here for this complimentary event.