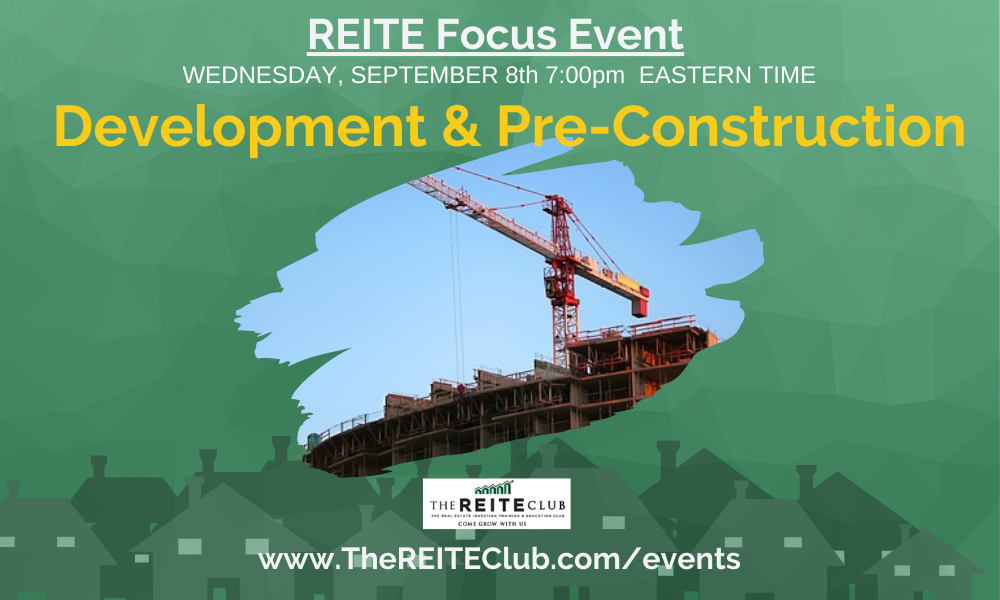 Event Details
Don't miss this "behind-the-scenes" look at development and pre-construction for Canadian real estate investors!
Date: Wednesday, 08 Sept 2021
Time: 7:00 to 8:00 pm Eastern
Location: Virtual Zoom
Price: Complimentary
As the market for single-family and other residential properties continues to be short in supply and competitive, one area to consider for your real estate investing portfolio is development and pre-construction.
 
This REITE Focus event welcomes back Jason Boccinfuso of Bosco Properties who will be sharing his insights from his years in real estate investing, having successfully built a multi-million dollar rental portfolio by his mid-20's.
 
Since then Jason has built, and owns, several projects, including many multi-residential apartments, commercial plazas, residential condos, townhomes and single-family developments. He will be giving you a behind-the-scenes look at investing in development and pre-construction opportunities.
 
Jason is a member of the Durham Region Home Builders Association, Ontario Home Builders Association and Canadian Home Builders Association, and has established relationships with a number of builders and developers throughout North America. These relationships have allowed Jason to learn a great deal about processes and procedures for both residential and commercial development, making way for a number of new projects coming in the next couple of years.
 
If development is on your real estate investing radar then you will want to register for this informative event!
---
Time and Place
The live portion of this event has ended.
Price
Please enjoy this complimentary event replay.