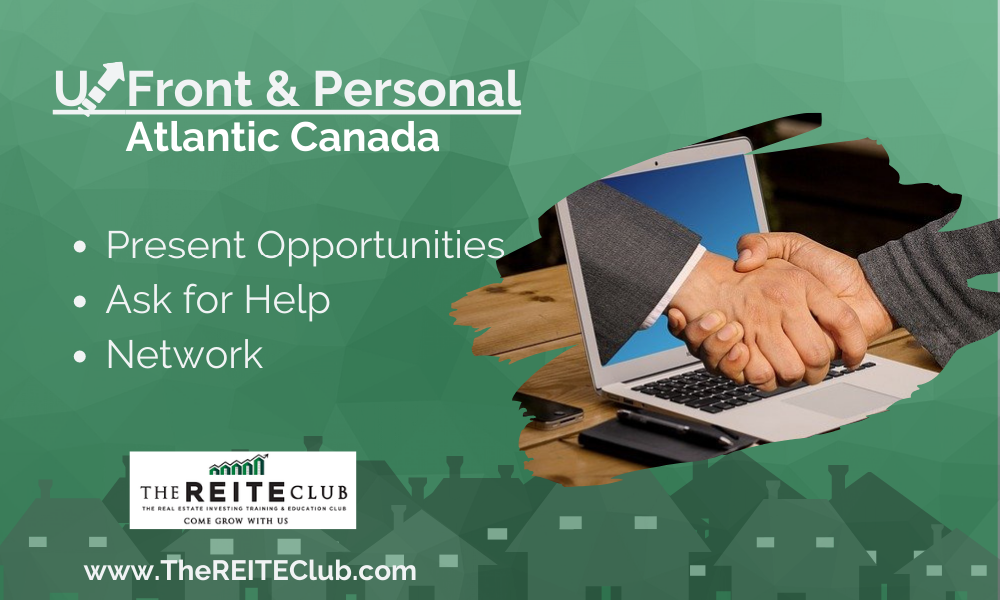 Our Up Front & Personal for Atlantic Canada is a complimentary event you don't want to miss!!!
Date: Tuesday, 06 April 2021
Time: 7:00 pm to 7:45 pm Atlantic (6:00 pm to 6:45 pm Eastern)
Do you miss those hallway networking conversations and bumping into that one connection that solves your problem or has the right introduction?
So do we.
That's why we are bringing our highly popular Up Front & Personal to your laptop, computer or phone.
Register here for this complimentary event.
What is Up Front & Personal anyway?... It's a 45-minute virtual zoom event where for the first 20-25 minutes you get 2 minutes to share your opportunity with everyone on the call. It could promote your off-market deal, or ask for a particular recommendation, or perhaps you could let people know you have money to invest.
How does it work?
Anyone who wants to be "up front & personal" has a chance to speak. Each opportunity slot is 2 minutes and is ONLY for one opportunity. We will be tough on time so everyone who wants to can get a chance to share.
What do you need to share? (plan this ahead of time):
WHO ... are you? Your name (& business name or company if you have one)
WHAT ... are you looking for? Be specific as possible.
HOW .... can people best contact you?
Depending on time and how many people have opportunities to share, we will use the rest of the time to do more open networking.
PLUS stay for our popular virtual networking.
---
Event dates
April 6, 2021, 6:00 pm – 6:45 pm