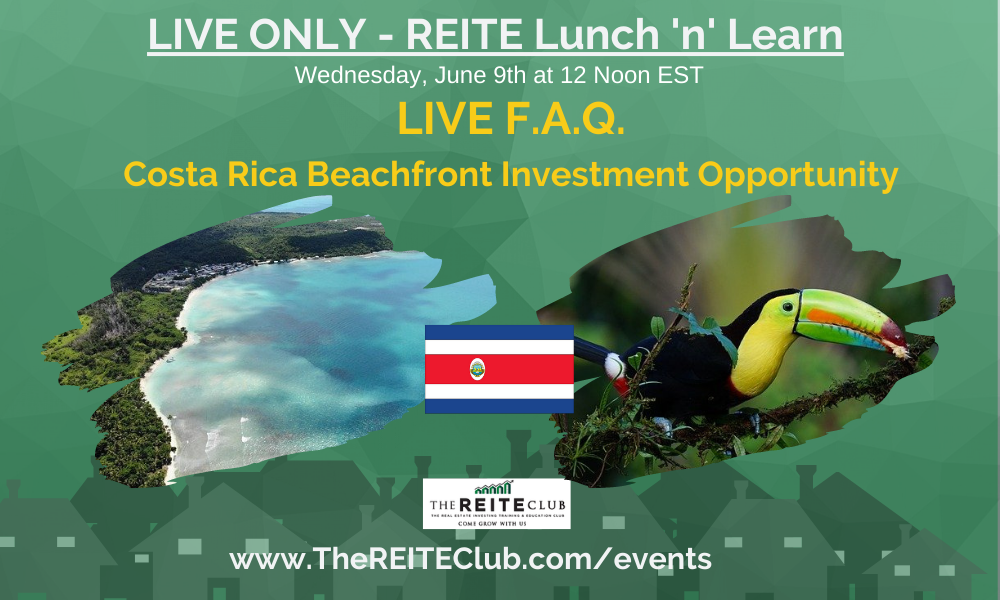 Date: Wed, 09 June 2021
Time: 12 noon to 1:00 pm Eastern
Price: Complimentary
Costa Rica Beachfront Investment Opportunity - WOW!!! This is an exclusive for REITE Club members only.
Don't miss out! The response we had to our last Lunch 'n' Learn about Costa Rica was overwhelming!
So the developers have added a few more units ... AND are still providing the special pre-launch prices and extra bonuses that were only shared on the last LIVE call.
In this session, the developers will be addressing all the common questions plus providing information about real estate investing in Costa Rica. There will be no recording or replay and we are expecting this extended offer to be acted on very fast so do not miss out.
Only a few more units available at these prices until June 15th. Then the price goes to the next level.
This Pacific paradise development offers:
Location in one of the fastest-growing areas on the Pacific side of Costa Rica
Luxury redefined condominium project with a choice of 1 or 2 bedrooms plus resort amenities and clubhouse all within a short walk to the beach
North American-style comforts on a beach surrounded by some of the country's most recognized wildlife
Titled beachfront
Fully Titled Ownership
Rental opportunity - property management is available
Low-rise buildings
Development company is Canadian owned
Come hear about all the details (with a lot of your questions answered).
PS. Don't kick yourself later because you "couldn't make the time" to attend.  There will be NO recording and NO replay. That means if you don't attend, well - you get the idea.
---
Event dates
June 9, 2021, 12:00 pm – 1:00 pm