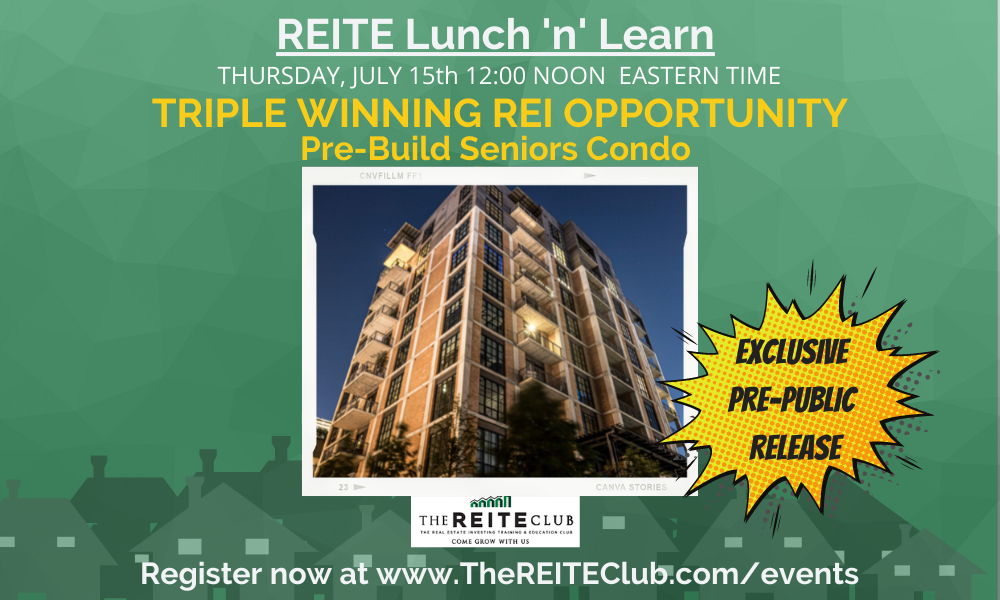 Event Details
Date: Thur, 15 July 2021
Time: 12:00 noon to 12:45 PM Eastern
Price: Complimentary
Join us to learn about this triple-winning REI opportunity for Pre-Build Seniors' Condo with:
Rental Income
Market Appreciation
Mortgage Paydown
EXCLUSIVE PRE-PUBLIC RELEASE
This is an amazing opportunity with a turnkey, hands-free investment strategy designed to ease seniors' housing demand, deliver positive cash flow, and offer exceptional ROI potential for only 20% equity.
When making your own portfolio buys, there are always risks associated with loss of tenants,  property management headaches or maybe even a market correction.
But with this investment opportunity, the risks and headaches are completely minimized through the unique combination that this company offers.
The REITE Club has partnered with RNR (Referral Network Realty) for pre-public access to an exciting seniors condo development in one of the fastest-growing and one of the top-ranked investment markets in Ontario, where the senior population is set to double over the next 15 years.  
Unlike if you were buying a condo for yourself, this development company has a class-A real estate investor's package that includes:
Your unit pre-leased for 5 years, meaning you get both rental income and mortgage paydown.
Vacancy protection so you are not worried about an empty unit costing you money.
All property management, maintenance, repairs and utilities included with no day-to-day headaches for you.
Tenant purchase option at fair market value at the end of the lease meaning you have a rock-solid exit strategy.
Market correction protection giving you peace of mind that your original investment is safe.
We are expecting high interest and demand for these exclusive units so be sure to register for our live information session on Thursday, July 15th at 12.00 pm EST.
This event WILL NOT be recorded so to get the full details, have your questions answered and be sent the investors' package you need to register for the call.
 
Presented by
Referral Network Realty (RNR)
---
Time and Place
The live portion of this event has ended.
Price
Please enjoy this complimentary event replay.
---
Related Events