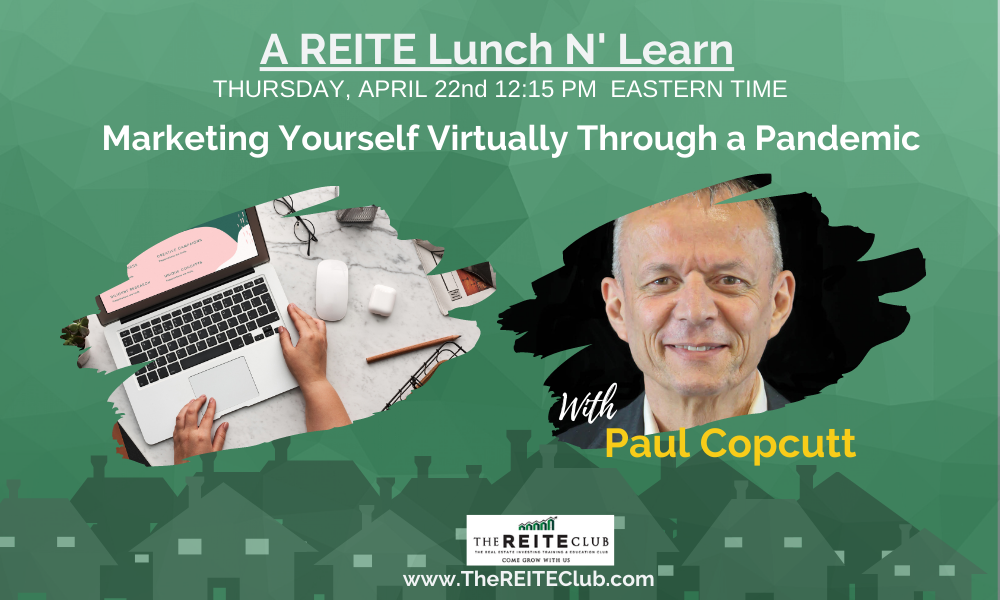 Join us for this complimentary Lunch 'n Learn event: Marketing Virtually Through a Pandemic
Date: Thursday, 22 April 2021
Time: 12:15 pm to 12:45 pm EASTERN
Register here for this complimentary event.
With many areas going into lock-down again or stay-at-home orders in effect, your in-person marketing activities may be severely limited and it feels like everyone and their dog (literally) are on Facebook or have an IGTV channel!
What can busy real estate investors do to market their business effectively AND successfully?
Join Paul Copcutt, Brand Strategist and Marketing Manager for The REITE Club, as he outlines some alternative approaches to help you stand out from the rest and not have to get a dog (or cat)!
In this REITE Lunch 'n' Learn you will learn:
Online strategies that work and ones to avoid
Offline actions you can take, even in a pandemic
Choosing the right mediums AND media for you
This session is a short, punchy event with the opportunity for live Q&A at the end.
Grab your sandwich, get some coffee or tea, and get set to lunch and learn!
---
Event dates
April 22, 2021, 12:15 pm – 6:29 pm