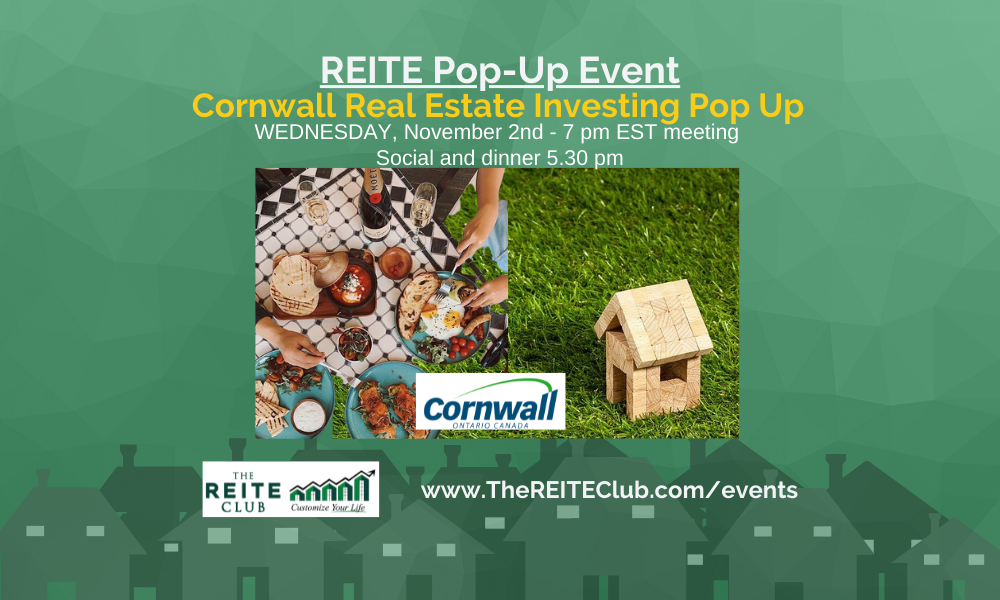 Event Details
A REITE Pop-Up Event
Real Estate Investing in Cornwall 
Wednesday, November 2nd, 2022
7:00pm EST - Event
5:30pm EST - Social, Networking & Dinner
Cornwall has been identified as one of the most affordable towns in Ontario to live in, which means there are also opportunities for real estate investors. 
Join us for social networking and dinner and connect with fellow real estate investors and professionals. 
Come and meet some REITE Club co-founders, industry experts, and get caught up on what's happening in real estate investing. 
What:    The REITE Club Pops Up LIVE in Cornwall!
 
When:   Wednesday, November 2nd, 2022
               5:30pm Pre-event Social & Networking.  Cash Bar and Cash Menu              
               7:00pm Event. Cash Bar      
Where:   Stomping Grounds Bistro                
                110-705 Cotton Mill St, Cornwall, ON K6H 7K7                
                613.938.2844
Registration:      Pre-registration is requested in order that we may advise the venue of the         expected numbers. 
 
Tickets:  No charge for the event. 
                Cash menu/bar are available for purchase by individuals attending. 
Guest Presenters
---
Time and Place
The live portion of this event has ended.
Price
Please enjoy this complimentary event replay.