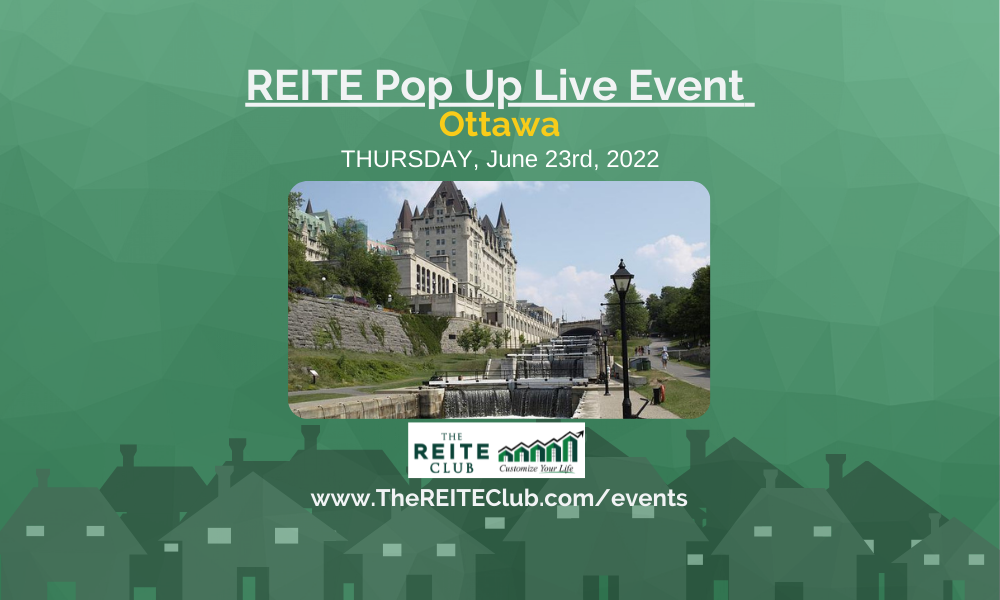 Event Details
The REITE Club Pops Up LIVE in Ottawa!
Looking to get back to meeting and networking in person? Join us and connect with fellow real estate investors and professionals in the fast-growing real estate investing city of Ottawa.
Come and meet some of the REITE Club team, supporters and industry experts. Get caught up on what's happening in real estate investing.
What: The REITE Club Pops Up LIVE in Ottawa!
When: Thursday, June 23, 2022
              5:00 - 7:00 - Pre-event Social. Networking. Cash Bar and Cash Menu
              7:00 - 8:30 - Event. Cash Bar
              8:30 - 9:00+ - Post event Networking. Cash Bar
Where: The CoBrie Restaurant
               Carlingview Shopping Centre 2121 Carling Ave, Ottawa, ON K2A 1H2
Tickets: $20+HST each
NOTE: This is a live event ONLY and we will not be running this event online. 
You MUST register your intention to attend so we can advise the venue of the expected numbers. If you have not registered and the venue cannot accommodate you we will not be allowed to admit you.
For those interested, there will also be the opportunity to enjoy dinner and drinks at your own expense prior to the official start of the event. Cash bar will be available throughout the event and post event networking and are to be paid for by the individuals attending.
To attend you must reserve your seat at the Live event, please click this payment link to purchase your ticket for $20 plus HST
Once registered we will confirm full event details.
THE SMALL PRINT
If we reach venue capacity the payment link will be taken down and no additional reservations or attendee requests will be permitted. No exceptions.
All payments or pass use is final, with no refunds, credits or cancellations unless government-mandated.
Presented by
---
Time and Place
The live portion of this event has ended.
Price
A great investment for only $20 CAD (+ tax as applicable).