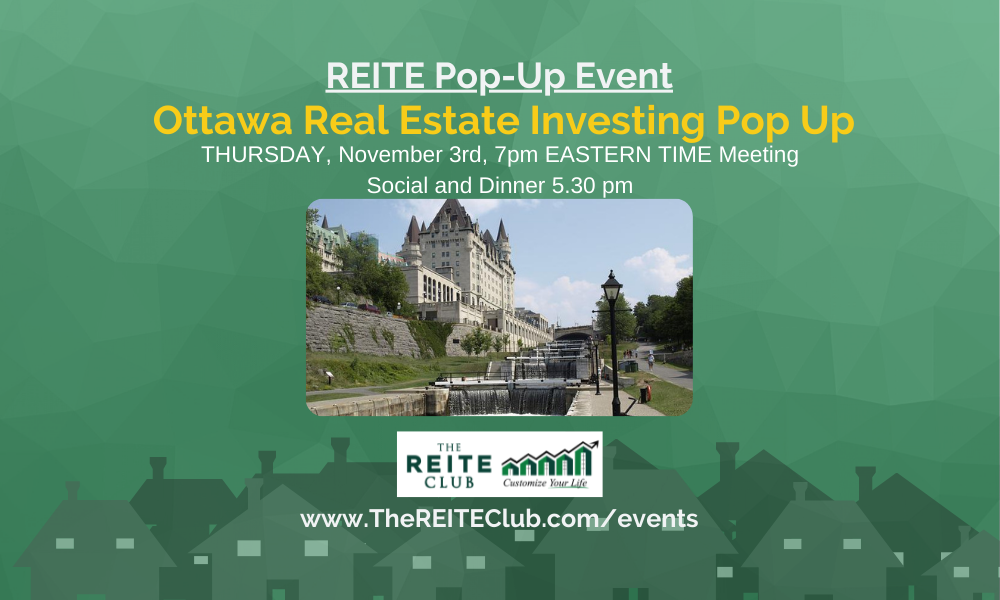 Event Details
The REITE Club Pops Up LIVE in Ottawa!
  
How great is it to be back meeting and networking in person - some come and join us! 
 
Connect with fellow real estate investors and professionals, and meet some of the REITE Club team, supporters and industry experts. Get caught up on what's happening in real estate investing. 
 
Hear from: 
Victoria Cluney - Real estate investing and mindset
Sandro Ferreira - The Power of Leverage and Modern Co-Living
Jacqueline - The Serial House Flipper
Daniel St Jean and Laurel Simmons - Customizing Your Life 
Francois Lanthier - Costa Rica Investor Retreat 2023
 
When: Thursday, November 3rd, 2022
             5:00 - 7:00 - Pre-event Social & Networking.  Cash Bar and Cash Menu
             7:00 - 8:30 - Event. Cash Bar
            8:30 - 9:30 (max) - Post-event Networking. Cash Bar
 
Where: Copper Branch, Nepean
 
Tickets: $20+hst 
 If you are a REITE Club Pass holder and would like to redeem your passes for this event, please reach out directly to our Operations Manager - Katherine@theREITEclub.com or 289.213.7600.

ACT FAST - LIMITED SPACE! You MUST register as the venue has an attendance maximum. If you have not registered and the venue cannot accommodate you, we will not be allowed to admit you.  
 
For those interested, there will also be the opportunity to enjoy dinner and drinks at your own expense prior to the official start of the event. A cash bar will be available throughout the event and post-event networking and are to be paid for by the individuals attending.
 
THE SMALL PRINT
If we reach venue capacity the payment link will be taken down and no additional reservations or attendee requests will be permitted. No exceptions.
 
All payments or pass use is final, with no refunds, credits or cancellations unless government-mandated.
 
NOTE: This is a live event ONLY and we will not be running this event online. 
Guest Presenters
---
Time and Place
The live portion of this event has ended.
Price
A great investment for only $20 CAD (+ tax as applicable).