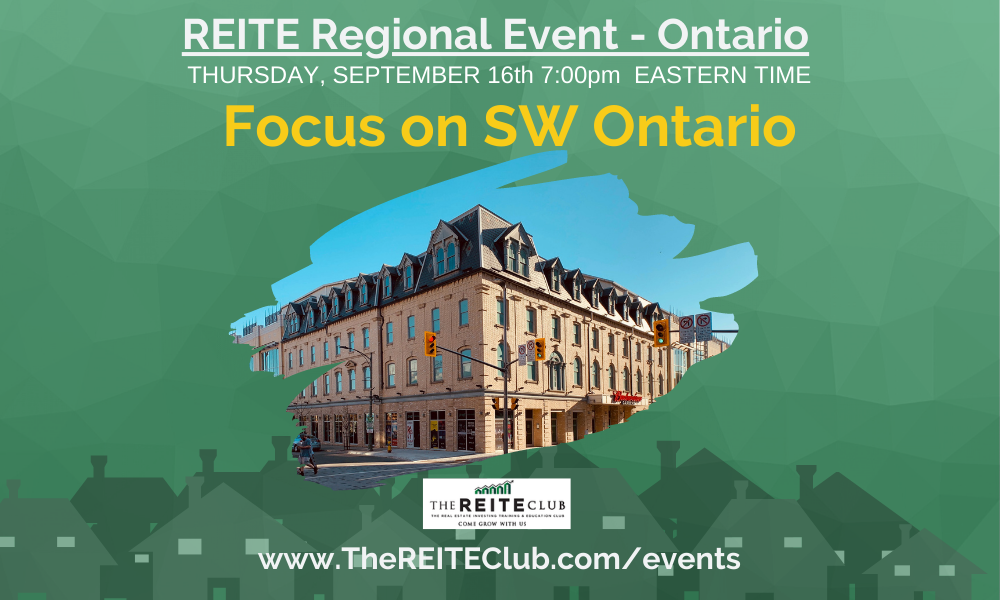 Event Details
Join us at this complimentary event for the inside scoop on Southwestern Ontario!
Date: Thursday, 16 September 2021
Time: 7:00 pm to 8:00 pm Eastern
Location: Virtual Zoom
Price: Complimentary
As the price pressures and continued short supply of houses continue in the GTA, real estate investors are looking further afield for opportunities. One such area, with its farming towns and strong Universities, is Southwestern Ontario along the 401 corridor from Kitchener/Waterloo to Windsor and across to Sarnia.
This area has proved particularly popular for one of Canada's largest rent-to-own operators and REITE Club co-founder Alfonso Salemi who is a co-owner of JAAG Properties and will be sharing some of JAAG's successes in the region.
We will also be getting property market updates from Brenda Schuiling in Kitchener/Waterloo and Justin Konikow for London and many of the surrounding smaller towns that are proving attractive to investors.
Finally, we will be hearing about the latest mortgage news and updates from Brian Hogben of Mission 35.
And don't forget to stay for our virtual networking!
---
Time and Place
The live portion of this event has ended.
Price
Please enjoy this complimentary event replay.