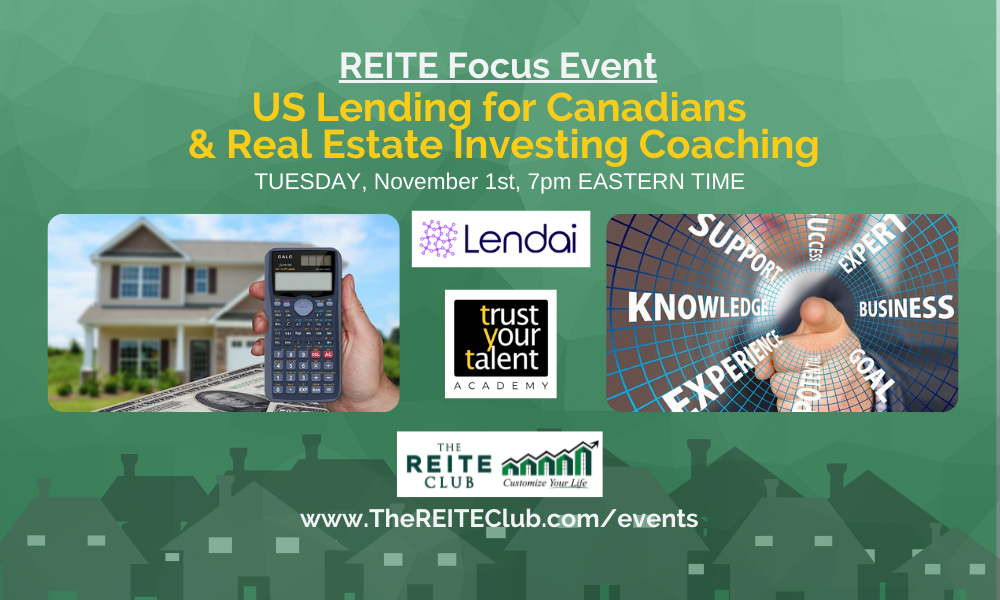 Event Details
Are you considering starting or expanding your portfolio in the United States?
One of the challenges Canadians can face when looking to invest in real estate south of the border is finding reliable financing sources, especially now the market his changing. While many of the major Canadian banks have operations there they often still apply Canadian lending rules to investors.
As a Canadian investing in the US what do you need to know?
Join representatives from Lendai, a company that partners with the best real estate professionals to help foreign investors access US financing. Leveraging digital solutions that create a simple, fast, and efficient online financing process their unique AI algorithms and online platform are transforming the way foreign investors access US financing.
Coaching for Real Estate Investors
Speak to the vast majority of successful real estate investors and they will attribute some or most of their success to working with coaches and mentors. 
You should not be any different, particularly as we face more uncertain times, having an experienced and supportive coach will make all the difference. 
Join Co-Founder of Trust Your Talent Academy, Tim Tsai, as he shares more about TYT a financial education academy guiding individuals and families to leverage real estate investing to achieve their desired financial goals MORE securely, effectively and efficiently!
With the most complete and comprehensive curriculum in real estate investing in North America, students are guided to customize their learning journey to achieve their financial goals from Day 1 guided by coaches and mentors and supported by an incredibly welcoming, like-minded community of fellow investors. 
Register now for these two very informative presentations. 
Guest Presenters
---
Time and Place
The live portion of this event has ended.
Price
Please enjoy this complimentary event replay.