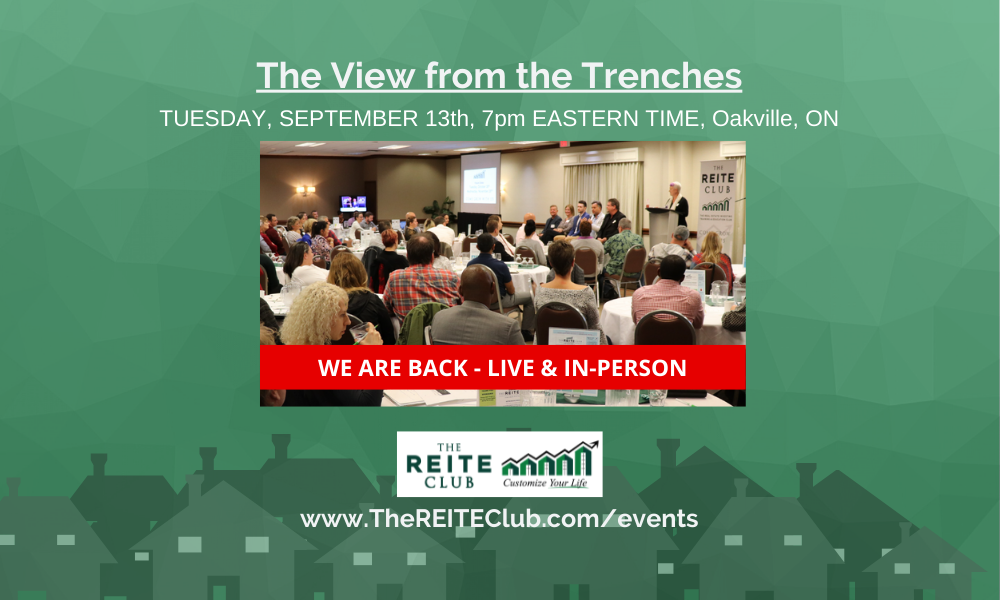 Event Details
The View from the Trenches
We are back, live and in person and after two years a lot has changed. 
What is happening and where are things heading? 
Join us for this live, in-person event at a new location. Catch up with people, meet new ones and hear from a variety of experts who will give us an update on where they see the opportunities and what real estate investors can be doing to prepare for some uncertain times ahead. 
Commercial to Residential Conversions 
Hear from REITE Club co-founder Sarah Larbi about the new BRRRR strategy she and her partners are following. Buying commercial buildings, converting them to residential and leveraging the attractive programs through the CMHC. 

Rent to Own and the Federal Government
Hear from REITE Club co-founder and President of CAROP, Alfonso Salemi about what the Federal budget's promise of support for rent-to-own programs really means and where the opportunities lie for real estate investors.  
The Time to Buy is Now Panel
There is the old saying; 
Q: When is the best time to buy real estate?
A: The best time was 25 years ago. The 2nd best time is now!
Is that the case with the current market? Join our panel of experts in finance, development, real estate and real estate investing as they share their thoughts and experiences from previous market fluctuations. 
Expert Panelists: 
Mortgage Broker:  Amiel Jelinek
REInvestor: Mathew Frederick
Real Estate Agent:  Dylan Suitor
Developer:  Drew Toth 
Up-Front and Personal
Do you have a deal that you want the audience to know about? Live events mean we are bringing back our very popular Up Front and Personal. You know how it works, the first 10 people get one minute or less on stage to tell us what you have and what you are looking for. 
PLUS Networking - bring your cards (do people still have business cards?!), make connections, start relationships, reforge collaborations. 
Tickets:  $40+HST - Pre-registration MUST be completed - No sales at the door. 
The new venue will NOT have the same capacity as before so do not be disappointed and make sure to register early. 
Passholders: If you are a pass-holder you can email Katherine to reserve your spot using one of your passes - note if you reserve using a pass and are a no show you forfeit the pass. 
Katherine@theREITEclub.com   289.213.7600  
Venue:   
Oakville Conference Centre, 2515 Wycroft Rd, Oakville, ON   L6L 6P7 - https://www.oakvilleconference.com
Guest Presenters
---
Time and Place
The live portion of this event has ended.
Price
A great investment for only $40 CAD (+ tax as applicable).